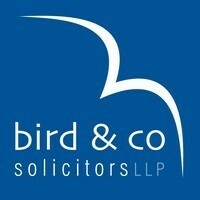 Bird and Co Solicitors LLP are proud of their national conveyancing service, providing an efficient and streamlined service to clients all over the World.
Chris Jeyes of Bird and Co Solicitors has taken the lead on developing the conveyancing team from a small traditional firm to one capable of serving many more clients from various locations.
How did you find out about InTouch Conveyancing Software?
Through research Chris came across InTouch conveyancing software and immediately and easily embedded the quotation calculator onto their website. Previous experiences with other systems often left Chris frustrated but he was immediately impressed with how self-explanatory InTouch was to use. Chris also found InTouch to be of far better value than a lot of their competitors. There are no hidden fees/set up fees or bolt on extras with InTouch, what you see is what you get.
How do you use InTouch?
Bird and Co Solicitors use InTouch as a crm to follow up on leads which often adds up to over 20 a day. The ability to report on how many leads convert each month is an essential tool for any business owner. The ability to set alarms and follow up on these leads is also a key tool for Chis allowing all his staff across multiple offices to work in the same way with the same common goal.
How does using InTouch benefit your clients?
Bird and Co Solicitors clients also see the benefit of InTouch thanks to the automated emails and online client portal. Keeping your client up to date is essential in this modern age. With technology advancing all the time clients are able to access their secure portal from any device at any time. This adds an extra valued service to all their clients with no extra work from their staff. Estate agents and other significant stake holders are also invited to track the property through their own secure portal significantly reducing time spent on progress chasing phone calls.
How satisfied are you with InTouch?
Chris is very satisfied with how unfailingly helpful Director Marvin Rounce is at willingly changing and updating the software to ensure it suits all of Bird and Co Solicitors needs.
Would you recommend InTouch to other firms?
The ability to fully customise the system, style and embed the calculator are a few of the reasons Chris would absolutely recommend the software to a firm looking for a quote engine and milestone reporting.
A comment to finish…
In addition to all the above, it is refreshing to find a software provider so engaged and helpful – as reported by all those who have worked with Marvin & Dale at In Touch (and Chris has heard this from multiple sources).